Using the beauty of glass and light as her primary tools, Michelle incorporates natural elements such as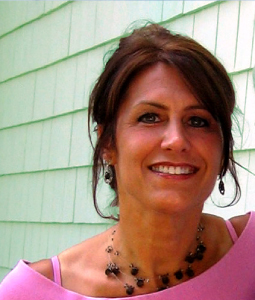 sea glass, shells, and dimensional or fused glass. Her art is recognized by its elegant lines and celebration of color and texture. Her inspiration is expressed through her love of the ocean, nature and the importance of using recycled goods.

Michelle's introduction to stained glass art came during high school learning the basics from an experienced teacher who inspired his young student to create her own patterns, requiring her to use her sense of balance and design. As a hobbyist, Michelle's projects took on an ever increasing scale of creativity and complexity, creating a sign for her family's eye glass business, hangings and panels for the windows in her parent's home, a crescent moon clock face for a grandmother clock she refurbished from a yard sale find. Never working from published patterns, Michelle's distinctive style continually developed.

In 2005, a back injury forced her to leave her position as a flight attendant and Michelle's obsession with glass took over. With so many possibilities and ideas taking hold, Michelle began selling her pieces through a local gift and art store under the business name of Fresh Cut Glass. A few private commissions came from that exposure and soon she ventured into the world of art shows and higher end craft festivals. Michelle was quickly accepted into the most prestigious shows and festivals in the northeast US. Her individual contemporary style with clean lines, an open airy feel, use of textures and sea glass, and an uncanny instinct for color and balance stands out among glass artists.

Bill's path was different, taking a supporting role as Michelle developed her art. Bill began to find small ways to contribute blown glass into her projects. With Bill renting hot shop time the inspiration struck to create an infusion jar for their home. After searching for a nice glass piece to put into their home they were unable to find the kind of impactful, artful piece they wanted. This has turned into a complete product line of hand blown Infusion Jars for Fresh Cut Glass.

There have been many exciting projects during the life of Fresh Cut Glass, but the most honored to date came in 2010. Michelle's uniquely designed and personally made sea glass pendants were given as gifts by Massachusetts' First Lady Ms. Diane Patrick to all of the states' first ladies when they visited Boston for the Governor's Conference in July. (read the article)

"I hope you enjoy my stained glass art…and Bill's infusion jars, as much as we enjoy creating it. We take great pride in not only our artwork, but in our customer service as well. Thanks for visiting our site".
Stores

Newport Mansion Stores, Newport, RI
newportmansions.org/shop
Various Mansion Locations and Bannister's Wharf
Newport, RI 02840
(401) 847-1000

Lamington General Store, Bedminster, NJ
lamingtongeneralstore.com
285 Lamington Road (Rte. 523)
Bedminster, NJ 07921
(908) 439-2034
Over The Moon, Feeding Hills, MA
overthemooncrafts.com
The Community Shops
1325 Springfield Street
Feeding Hills, MA 01030
(413) 342-4539